Beating the winter blues
Get through the dark winter months with some dietary pick-me-ups...
IBS
Advice for people suffering from Irritable Bowel Syndrome.
Natural Beauty
Make your own cleansing balm and moisturiser.
Hay fever – What's the alternative?
A medical herbalist's approach to treating allergies and hay fever.
After the party
Restore your health after the excesses of the party season, plus some make-your-own gift ideas.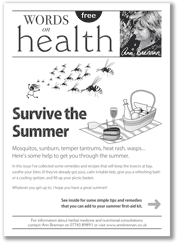 Survive the Summer
Make your own insect repellent, cooling spritzers and bath bags, tips on kitchen first aid, and summer picnic recipes.
Pick your own
Autumn's free, healthy and delicious foods...
Allergies
Advice for sufferers...